INTRODUCTION TO
FIRE ALARM SYSTEMS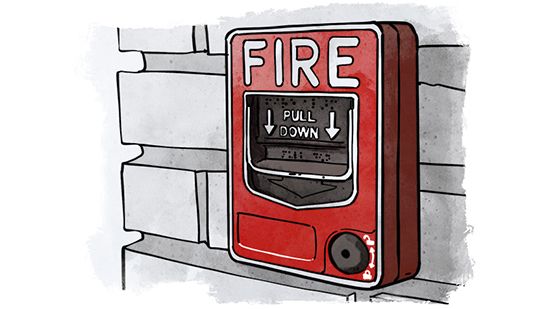 This is an introductory series covering types of fire alarm systems. We cover what a fire alarm system is, the components of a fire alarm system, and different types of fire alarm systems.

Our objectives include:
Understand how fire alarm systems are categorized.
Be able to identify different types of fire alarm systems.
Understand what type of fire alarm system is appropriate for different building types.


Joe Meyer, PE
Owner / Fire Protection Engineer at MeyerFire | St. Louis, Missouri, USA
Joe Meyer, PE is a St. Louis-based Fire Protection Engineer and creator of MeyerFire, an online resource platform for professionals in the fire protection industry. Passionate about the field, Joe is committed to creating impactful resources to help grow and improve the practice of fire protection engineering.


Joe's engineering journey started at the University of Kansas and continued at the University of Maryland. Before founding MeyerFire, he led a fire protection group in St. Louis and worked for a large MEP group in Kansas City. Joe is also an avid illustrator and ran an online art shop from 2012 to 2020.


Today, Joe is the creative lead for MeyerFire among other roles. He has authored the leading prep guide for the Fire Protection PE Exam, contributed to NFSA's Layout Book, compiled the NFSA Expert of the Day volumes, has served as a Chapter President in SFPE, and lectured at the university level.


Joe is driven to make the world a little better each day by working to provide industry professionals (engineers, contractors, architects, and building owners) with the resources they need to create a more firesafe world.
Tyler D. Mobley, PE
Fire Protection Engineer at Mobley Fire Protection | Dallas, Texas, USA
Tyler Mobley is a registered professional fire protection engineer with 17 years of experience in fire protection system design and consulting. Tyler began designing automatic sprinkler systems when he was a senior in high school and continued to design them while pursuing and receiving his B.S. in Architecture from Texas Tech University. After graduating from Texas Tech, he closed the door on architecture and fully emersed himself in fire protection, including expanding his expertise into special hazard fire suppression system, fire alarm system, and mass notification system design and the pursuit of a M.S. in Fire Protection Engineering at California Polytechnic State University. Upon receiving his master's degree, he transitioned from contracting into consulting. His consulting experience took him to new levels of fire protection engineering involving life safety and hazardous materials code consulting, fire modeling, egress modeling, and smoke control system design and testing. Tyler is currently the owner of Mobley Fire Protection, located in Dallas, Texas, providing fire protection engineering services in Texas and Oklahoma.
Aaron Johnson, CFI-FTER, CFEI
Chief Fire Strategist at Aaron Johnson, LLC | Palm City, Florida, USA
Aaron has more than fifteen years of fire protection, life safety, and code compliance experience. He started his career in the fire service, moving his way through the ranks to Fire Marshal. Aaron holds multiple fire service certifications and is actively involved in multiple codes and standards making organizations. Aaron is currently a freelance fire protection consultant focusing on innovative fire protection for emerging technologies. He is a prolific writer having authored more than 500 industry-related articles, white papers, and blog posts. Aaron lives in South Florida with his wife and four kids.
Al Yakel, SET, CFPS
CEO/President at Collings & Associates, LLC | Ventura, California, USA
Mr. Yakel is President of Collings & Associates, a Fire Protection Engineering Consulting Firm located in Ventura, California. Mr. Yakel holds degrees in Fire Science Technology, Business Management, and is a graduate of the Firefighter 1 Academy. In addition, he is an ICC Certified Building Inspector and Plans Examiner, NICET Certified (#142617) Fire Alarm Systems Level IV, and holds California State Fire Marshal certifications. Mr. Yakel has over twenty eight years of experience in the fire protection industry. He lives in Ventura with his wife of 30 years and is the father of four adult children.
Convince My Boss
We're thrilled about this platform.
Maybe you're excited too.

If you need help convincing management, trying printing this page and having a more informed talk:

(and good luck!)